WO CoPs F2F Meeting - 25-27th November 2019, Barcelona
Description
This event will constitute the 4rd face to face forum for the 4
WeObserve
Communities of Practice (
CoPs
), dedicated to consolidating practice-based knowledge of Citizen Observatories (COs), sharing information and resources, and working to further develop best practice guidelines and toolkits for COs. They bring people together from all sectors and countries to share experiences and generate debate and reflections about citizen science. The Communities of Practice are developed as a step to CO-CREATE AND STRENGTHEN THE CITIZEN OBSERVATORIES KNOWLEDGE BASE, which is an objective of the
WeObserve
project. Four active communities exist:
CoP
-engage (co-designing citizen observatories and engaging citizens),
CoP
-Impact (impact and value of citizen observatories for governance),
CoP
-Interoperability (interoperability and standards for citizen observatories) and
CoP
-SDGs (UN Sustainable Development Goals and citizen observatories).
Report
Day one: Vocabularies. Morning conversation with Rob Atkinson
In the morninig I had a conversation with Rob Atkinson aobut the definitions server and we got some infications on how it works
Rob has developed some code to work wih that that can be found here.https://github.com/opengeospatial/NamingAuthority/tree/master/incubation/qualityml There are two services:
http://defs.opengis.net/
--> the stable and official one
http://defs-dev.opengis.net/
--> the developement one. We got a password to access the admin zone in it:
http://defs-dev.opengis.net/admin/
that is not included here for obvious reasons but is in the 25/11/2019 16:16 email
It is possile to import file with SKOS via ImportedConceptScheme.
click on _resource:
to reload new version check Force purge of target concept schema
run Save and continue
this should then list the ConceptSchemes found in the SKOS file - click to enter editor
View on site button on top right to preview structure
If all looks good push to the RDF layer (takes a little while)
then test via a link (the preview link helps)
if the data has changed need to flush the cache on the server - use Shift-F5 on the browser.
(I have a tool to do a bulk refresh

- will get a better solution to you for bulk update... )
Playground to define individual "words"
I have set up a play concept scheme. The loign credentials are the same and enter in one of the two URLs
tricky parts for now: * the
variable
descriptive properties are added as smif:* an available under
Additional Properties
* I'll add properties for each column in the ECV variable spreadsheet... your main task is to work out how to partition up independent parts of variable description into related registers so I can build easier to use custom editors for each part that enforces mandatory properties and types publish as a scheme using the same as bulk-load when ready.
Morning afternoon meeting
We had a conversation on what vocabularies could be more convenient to develop
Variables (ECV…)
Sensors (SensorML…)
Users (??, feedback)
Observations (O&M, )
Dataset ()
Projects (PPSR…)
Quality (19157)
Experiences (GUF…)
We had a dicussion aboout Observation (uncertainty) versus dataset (a.k.a. collections of observations) (data quality) The process for vairables vocabularies should be:
A project looks in the vocabulary if the variable that they want to record is in there.
If it is, the will use it.
If it is not they will include it in the vocabulary as a derivate concept in the tree of concepts
The distance between concepts will give us an idea of "similarity" of the concepts and will give us a uncertainty in comparisons.
Conclusions are:
It could be good to analyze what subset of 19157 is applicable and useful for citizen science
There is nothing about Reputation of users in the 19157
There is nothing about validation by other users in the 19157
Current tools provided to look for concepts doe snot seem to be appropiate
The Def. Server can also be use to host UncertML (less pretty than the last version of the website but more robust

we could try to derive the skos from the xsd
a pretty facade can be re-developed separately
we can wrap this with more illustration, graphs etc, the important thing is that the definition is safe in one place.
We should decide on to use the stable UncertML 2.0 or the newer version of the schema on Github of Uncertml 3.0 (the later is it's ok but not finalised per se, it has some useful concepts like bounded distributions but was led mainly by the Systems Biology community
Valantis did a great presentation on
SensorThinks
API.
Main leason: A
DataStream
is the entrypoint to observations. A Datastream acts as a contained of observations that have the same
Thing,
Sensor
(units of measure)
This are some of the links we tested in his implementation
There was no decisions on clients an services to expose but it seems that Andy could try to adapt the Grow SOS experimental client and CREAF could start by a client and consider to do a partial implementation as a service. By analizing in deap the
SensorThing
API main diagram: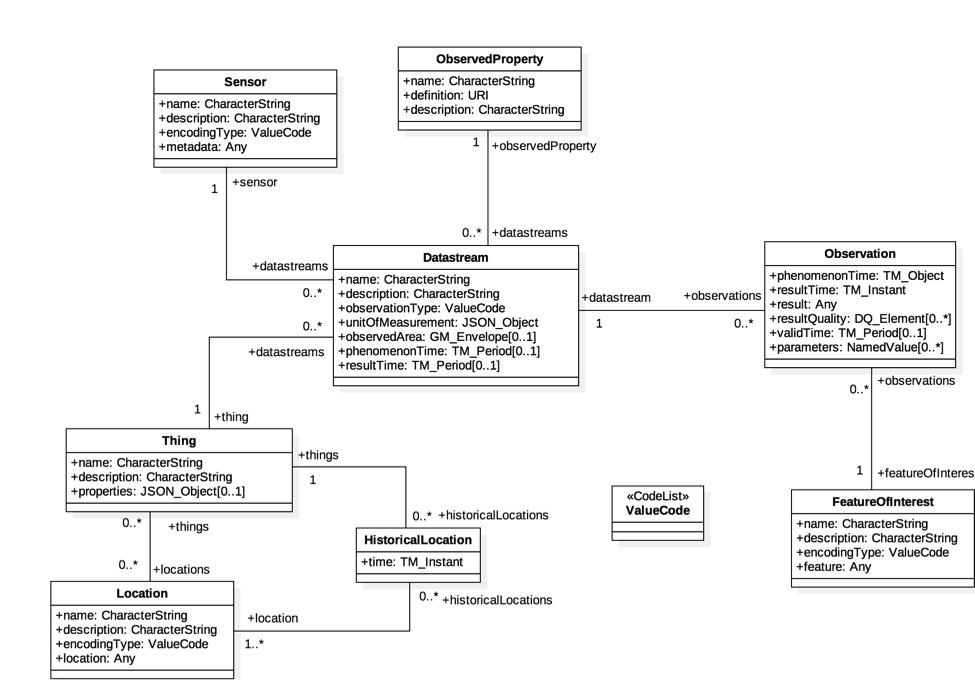 We saw a clear gap: There is no reference to the user. The cost action developed another model independently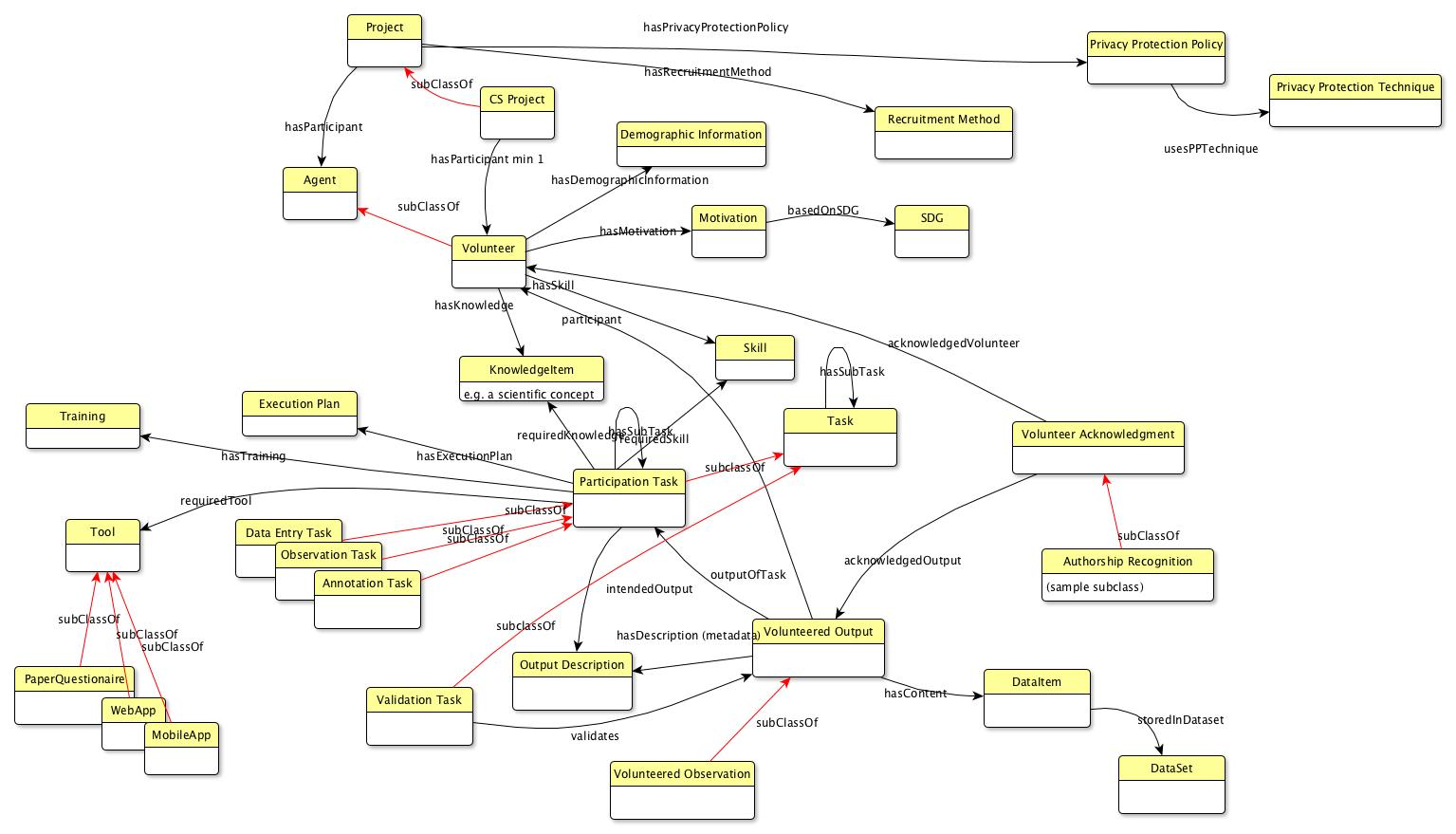 This one includes a clear description of the user and the different tasks it can perform. We can see also some elements that has a correspondence in the
SensorThingAPI
diagram such as observation=dataitem but the observerProperty is missing in it. On the other hand, the description of the user is a gap in the
SensorThingsAPI
that need to be covered. Note that in Citizen Science there it the user that builds de DIY device, the user that has it in the garden, the user that colaborates in the download and the user that does an observation and we could consider them in an extension fo
SensorThingsAPI
for citizen Science. A discussion on the requirements for the Earth Challange 2020 took place. In it we identified the needs for:
Use as a many core to define the observations
Use observedProperty to describe the 6 scientific question retalted pilars. observedProperty has a URI to link to the "concept" in the definition server
Assuming that the EarthChanllange 2020 integrate differnet Citizen Scince data sources, use thing as a way to describe the source of information and be able to trace back to the original observation. This way each project variable integrated in the EarthChanllange 2020 will be a datastream and we can aggregate datastreams that share the same variable easily.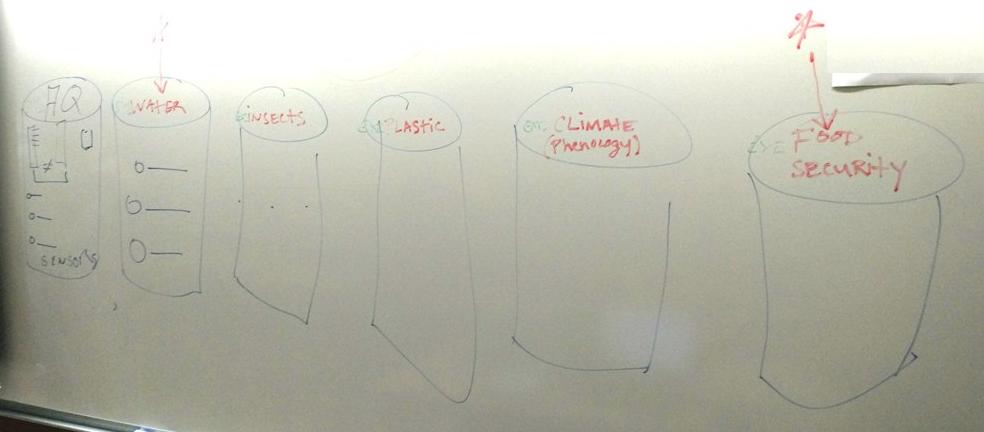 Earth Challange 2020 is using FIWARE (
https://www.fiware.org/
) ESRI repositories and somethig called
Kinetica
(
https://www.kinetica.com/
)
We had a presentation on the Authorization service and the landsense federation and a new offering to use it. The
COS4Cloud
proyect seems the perfect candidate to adopt it.
LandSense Engagement Platform - IE - part2.ppsx
:
LandSense
Engagement Platform - IE - part2.ppsx Some URLs we discover during the meeting are:
Logistic information
Dates:
25-27 November 2019
Venue:
Casa Convalescència
- Sant Antoni Mª Claret, 171
Accommodation
CREAF have asked for 15 pre-booked rooms in this hotel:
C/ Lepant, 406 (13 min walking)
indivdual room: 72€
breakfast included
VAT not included
Booking code: WeObserve
Attendants from the WeObserve project should contact Pere Botey (pere.botey@atlantida.travel) with the booking code and providing the details of their credit card
Invited attendants should contact Pere Botey (pere.botey@atlantida.travel) with the booking code and telling him that IIASA is paying
How to get the venue
Underground:
Yellow line (L4) - GUINARDÓ - HOSPITAL DE SANT PAU station Blue line (L5) - SANT PAU - DOS DE MAIG station
By bus:
Lines: 15, 19, 20, 45, 47, 50, 51, 92 and 192.
For the GPS
Enter the following coordinates: Latitude: 41.413702 (41° 24' 49.33'' N) Longitude: 2.177482 (2° 10' 38.94'' E)
From the airport:
Train + Underground. At the RENFE station, take the train to Sants-Estació. Once there take the Underground's blue line (L5) till SANT PAU - DOS DE MAIG station.
Bus + Underground. Outside the airport terminal, take the AEROBUS to Plaça Catalunya. Walk one corner till Plaça Urquinaona and take the Underground's yellow line (L4) to GUINARDÓ - HOSPITAL DE SANT PAU station.